We manufacture household awning window motors and skylight motors, including window motor replacement. Our mission is to de-mystify the underlying technology related to windows and skylights, and to help you enjoy the benefits of an automated life style. We ship our products worldwide, and we have many satisfied customers.
Made from high-quality materials, our awning window motors are built to last. They can withstand the elements and keep your windows functioning for years to come.
Our motors are tested to meet strict safety and performance standards, so you can rest assured that they are safe and reliable.
We are also very big supporters of alternative energy systems, having worked with solar photo-voltaics since 1972. All our window motors and skylight systems run on safe, efficient 12v DC and are specifically designed for low power consumption. They can be easily interfaced to solar and other alternative energy systems.
We fully support the international effort to create 'green' products and reduce fossil fuel dependency.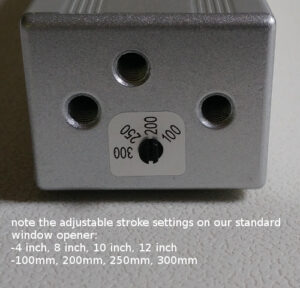 We appreciate your visit to our website; please feel free to contact us whenever you have a question. If you prefer email, so do we.
Our awning window motors are easy to install, even if you're not a professional. With clear instructions and all the necessary hardware included, you can have your new motors up and running in no time.
We do not publish our phone number as we get too many telemarketing calls, but send us your phone number and we'll be happy to call.
Adrian Biffen
Senior Partner
RollerTrol™ Automation Systems
Have any questions about our products?
We sincerely hope you enjoy using these advanced motors; if you have any questions, please feel free to contact us at any time!