Contractor Profits –
Window, Skylight, Blind
Motorization
Window, Skylight and Blind Motors
We have openings for dealers for our window, skylight and blind low voltage motors. These are safe from any shock hazard (12v DC) and can be easily installed with the mounting brackets provided. If contractor profits are of interest to you, please contact us for further information; we can talk to you about typical contractor overhead and profits. We have a wide selection of motorised kits that cover most window, skylight and blind installations, and we also have the capability of producing custom openers for those installations that require something extra. Electrically operated windows are an excellent way to add style and function to any home. With the use of window motors, you can open and close your windows with the touch of a button. This not only adds convenience, it also provides you with better control over the amount of fresh air that enters your home. Our 20 lb. awning window model has an adjustable stroke that limits the excursion:
4″ (100mm)
8″ (200mm)
10″ (250mm)
12″ (300mm)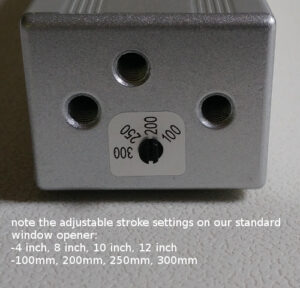 The stroke is adjusted by adjusting the 4 way switch at one end of the housing – just rotate the detent switch for stroke (excursion) length. Note that these settings qualify for ADA compliance. Electric window motors are fit unobtrusively on the window sill in an aluminum housing that can be painted. They use a stainless steel self-locking chain to control the opening and closing of awning windows (and other types). They are designed to be both simple and reliable, making them a popular choice for homeowners who want to add a touch of convenience to their homes. These motors can be controlled either by a hard-wired switch or by an RF remote control, making it easy to control your windows from anywhere in the home. If you choose the RF remote control approach, the signal will pass through walls and can be controlled from anywhere in a typical home. These RF remotes are capable of controlling up to 5 different channels, with a back-lit indicator that shows you which channel you are on. There is also an 'ALL' channel for opening all windows with a chain drive opener.
Contractor Profits: Alexa Voice Control
Our window motors cover all types of windows: awning, clerestory, casement and many others. We are also knowledgeable about automation systems – here is an article about voice control of a media room with Alexa.
The BenQ HT3550 projector is a great choice for a 4K projector, if you're looking for a unit with this resolution. Please keep in mind that everything in this article would also apply to a large flat screen TV. We had one of the very first BenQ projectors, and it has given us thousands of hours of excellent entertainment. We also purchased a 55 inch flat screen TV to watch talking heads on.
We have been using BenQ projectors for many years, upgrading every few years to the latest model. This is our 5th projector from BenQ, and it does not disappoint. This projector is equipped with some very large (and quiet) fans that maintain a relatively cool temperature for the bulb.
This article documents a complete article series of how to set up a media room with:
RF (Radio Frequency) control of blackout blinds
our Broadlink® RM4 Pro Emitter that transmits IR and RF Signals
the ROKU streaming system that works perfectly
a 10 foot retractable screen
a 55 inch flat screen TV
a 4K BenQ projector
a Denon 7.1 audio system
a cable TV receiver
The cost of participating in this program is low, with a purchase of 4 kits of any choice, and you will be able to take advantage of a discount structure. Please apply by filling in the form below.